Therman is here !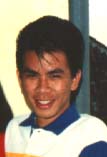 Diatherman Anggen
therman@hotmail.com

You are the
th visitor since Aug 19,1996
---

Please click 'Back' Button on your browser after Sign/View my Guestbook
Sign My Guestbook
View My Guestbook


---
Boarding house
Jl. Cisitu Indah no.11
Bandung, West Java
Indonesia
Phone : 62-22-2500215
Residence
Perumahan Bukit Nusa Indah
Jl.Orchid No.603
Sarua, Ciputat
Jakarta Selatan 15414
Indonesia
Phone : 62-22-7425846
---
Wellcome to
Just leave some path to follow me in Cyberworld !
My nick name is Therman. I was born in Jakarta, June 12th,1972,
I'm a Dayaknesse ( people from Borneo/Kalimantan Island )
These are some clues :
STTTelkom - Electrical Engineering Dept.
Neural Networks, Data Communication
Artificial Intelligence and Expert System
My general interest are :
classical music, playing guitar, web surfing, playing bridge, computer science, programming, travelling, reading, go to the movie...etc...etc....
Peace from Indonesia !
---
My Favorite Sites
Looking for Free Software ! Lots of categories
Software Maniac Easy to download
More software Shareware dreams world
GOSSIP at Alamak My favorite Chat Server - I used to be at Indonesia room
Free e-mail Service I'm here !
STTTelkom Alumni Home Page - Beta release 1.1. - NEW
The Real STTTelkom Home Page - almost impossible to enter
STTTelkom Home Page - mirror site - hard to reach !


---
Hall of Fame :

PT TELKOM Kandatel Jember members : Mr.Riza, Mr.Hidayat, Mr.Lala, Mr.Putu,Ms.Astuti

Alumni STT Telkom : Kartia, Bonha, Dedi Suherman, Dedi Lombok, Budi Satria, Cesmati, B37TI Hermastuti, Sonya, Iyoel (ex-Widyaloka I/207), Onyon, Kusnadi, Richard Alberto Tobing, Sri Wijayanti, Nunuk, Andar Manurung, Albertus Hugo Indrama YM.Purba, Vera Pardede, Elizabeth Simanjuntak, Made Oka Gama, Barnet, Gede Agus, Panji, Ngakan Nyoman Merta, Bastian, etc...etc.. ( this list will be growing )

PKL OS/II-96 Telkom Jember : Tommy, Didi, Diana Puspasari, Eny, Djoko Suhartono, Era Ajiwibowo, Endro

C&C Lab Members: Doddy Rahayu, Wayan, Romzy, Perry Erik ( I miss you all Hackers !)

Please tell me to add above names !!

Graphics by Harlan Wallach © 1994
Web design by Therx Brain-Hack Inc © 1996


My sponsor :